Ottawa, ON
December 31, 2018
Today on CTV Morning Live, in preparation for New Year's Eve festivities, Sommelier Matt Steeves showed some NYE perfect sparkling wines, how to open those bottles without incident (and with confidence!), and some ways to jazz them up by making 'Champagne Cocktails'.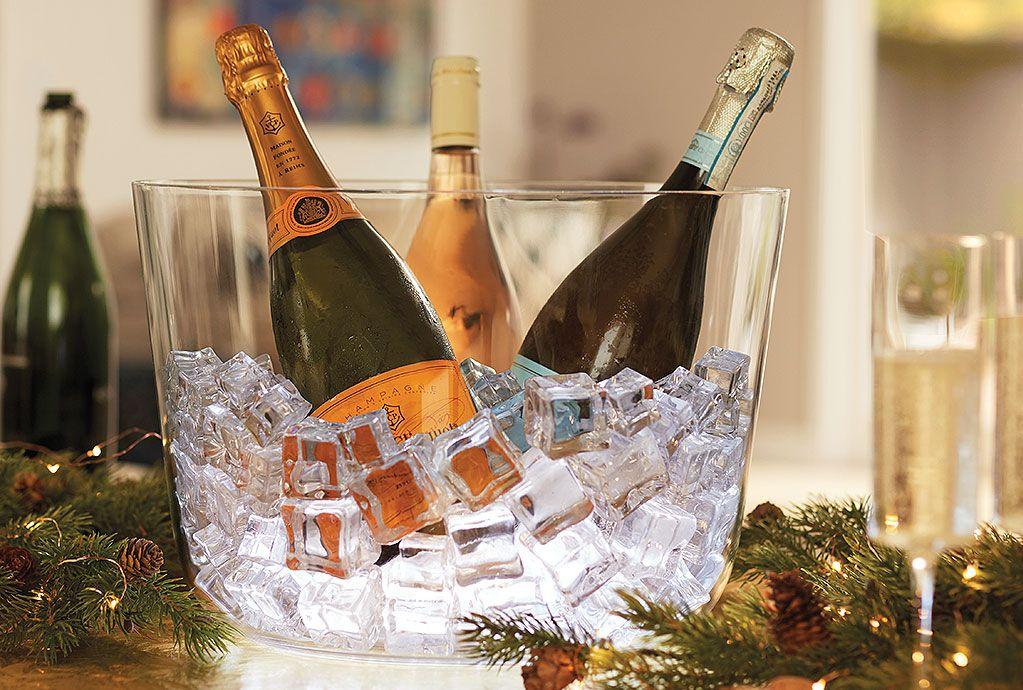 There's no better drink than sparkling wine to celebrate significant events, and New Year's Eve is one that commands some bubbly.
Sparkling wine is the ultimate celebration beverage. Whether you're celebrating a major milestone with a bottle of Champagne, or if you're toasting the arrival of a new year with friends, sparkling wines are the ideal drink for any celebratory occasion.
There's certainly a time and a place for enjoying top notch Champagne, such as Krug, as it's the ultimate celebration bubbly. For life's most special moments, a fine bottle of Champagne is a must, and certainly enhances the moment making it unforgettable. And as G-Eazy & Kehlani say, "Champagne just tastes better on jets", I tend to agree, sparkling wines taste better when surrounded by those you love and when celebrating great moments, living the Good Life!
When Neil Armstrong returned from the moon in 1969 the first alcoholic drink he enjoyed was a cocktail made with Champagne – I can't blame him, I'd like to think I'd do the same!
For life's other events there are plenty of tasty sparkling wine options for $15-$50.
Italy's famous TrentoDOC and uber popular Prosecco, Spain's Cava, and Canada's traditional method sparkling wines are all great options, and typically can be found for as low as $15-$35 making them great choices for your New Year's Eve celebrations.
There's something magical about those 250 million bubbles in every bottle of sparkling wine that make it the best, without a doubt, style of wine for celebrating significant events, such as New Year's Eve.
Those millions of tiny bubbles create a lot of pressure in the bottle so it's important to know how to open a bottle of sparkling wine, safely, and without losing half the contents due to over flow.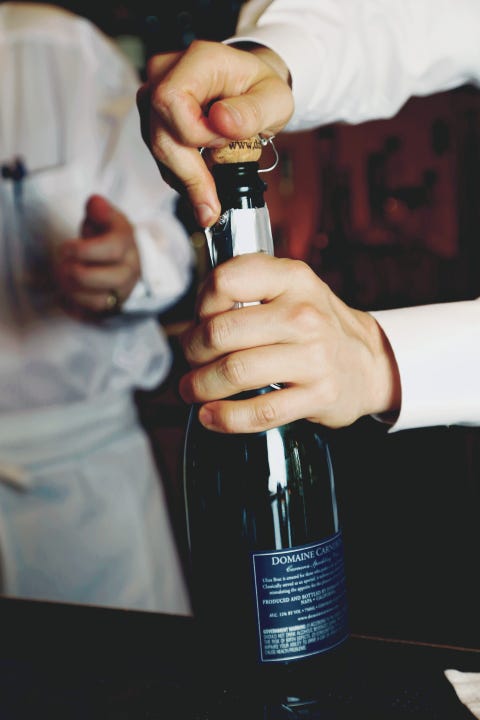 Here's a handy guide on how to open a bottle, safely, thanks to our friends at GlassofBubbly.com
Note the 6 twists of the wire cage, and hold your thumb on the top of the cork (always, as those corks have been known to pop out like a bullet as soon as the cage is removed), hold the bottle on an angle and twist the bottle while holding the cork, it's a lot easier than trying to twist the tiny cork.
Make sure you point the bottle away from yourself and anyone/anything you don't want to get hit by a flying cork should it take off unexpectedly (despite you holding the top of the cork).
Whatever you do, don't use a cork screw to remove the cork…that's a sure way to get a Champagne shower when you aren't expecting it!
When opening that bottle of sparkling wine, if you'd like to spice things up a bit, a sabre (such as a large kitchen knife) can be used to open a Champagne bottle with great ceremony. Here's an easy step by step guide:
Step by Step Guide to Saber Champagne
Chill Champagne

– put the bottles in the freezer for one hour or in a bucket of ice water for as long as you can

Completely remove foil on the neck of the bottle
Loosen and re-position wire cage carefully to first lip
Choose your saber

– either a large kitchen knife or be adventurous and go for a small implement like a spoon or butter knife

Hold Champagne at 45° angle
Slide saber (confidently) in a smooth motion along the seam of bottle, and just like a nice basketball shot, make sure you follow-through to ensure full momentum.
Now that we've covered how to open the bubbly, let's get into some different sparkling wine options for your NYE celebrations.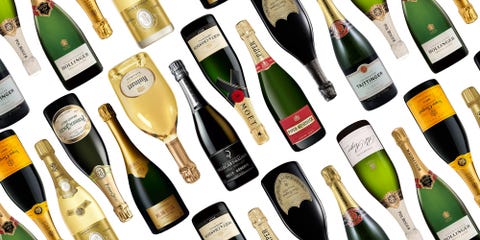 I've selected a full range of sparkling wines today, to suit every budget and occasion. The wines I've chosen offer great value and would be terrific for your New Year's Eve party celebrations:
2. Santa Margherita Prosecco – $17.95 at LCBO ($2 off)
Santa Margherita's Brut Prosecco Superiore is a terrific option when looking for a refreshing sparkling wine. Made from 100% Glera grapes, this Prosecco has lively bubbles with crisp pear and white peach aromas and a delicious apple finish persisting on the refreshed palate. Great for pairing with rich appetizers, and makes a terrific 'spritz' which is ideal in the summer sun. Tasted February 2017. 89 points. Matt Steeves – www.quercusvino.ca
Regularly $19.95 but on sale for the holidays at $17.95!
3. Villa Conchi Brut, Spain – $17.45
Whenever there's an opportunity to celebrate life's special moments, do so with a bottle of sparkling wine. They're perfect all year round, as they're always 'in-season'! This Cava, from Spain, is tasty and a great value-priced alternative to Champagne. I like to greet people at the door with a glass of sparkling wine when I take their coat, it's a small gesture that welcomes your guests in great style thereby starting off your event in
4. Jackson Triggs Grand Reserve Entourage Sparkling Brut 2015 – $29.95
A great way to ring in the New Year and celebrate every occasion this holiday season. This Niagara Sparkling Brut is made in the "Methode Classique" way (just like Champagne) which allows a creamy texture and bright (food friendly) acidity. This veratile bubbly has notes of floral and lemon zest. Pairs well with chevre cranberry tart or tangy shrimp appetizers.
2011 vintage review: A fantastic traditional method sparkling wine from the Niagara Peninsula! Jackson-Triggs' Entourage Grand Reserve 2011 Sparkling Brut is a fine example of the high quality value priced vintage sparkling wine that Canada's producing and excelling at. A recent Gold Medal winner at the WineAlign 2015 National Wine Awards of Canada (the Nationals), the price does not reflect the high quality of this aged vintage bubbly. A light golden yellow colour, evidence of it's nearly 3 years spent on the lees to extract colour, body, flavour, and aromatics, the nose is full of sweet green apple, citrus, and lime peel. A fine mousse covers and cleanses the palate leaving a fresh apple and mineral finish that persists until the next sip. Terrific with rich dishes, seafood, celebrations and those memorable toasts, this wine shows just how versatile quality vintage sparkling wine can be. Enjoy 2015-2020. Tasted October 2015. 91 points. Matt Steeves – http://www.quercusvino.ca
Jackson-Triggs Grand Reserve Entourage Sparkling Brut available at LCBO – $29.95
Ferrari has been producing world-class Methodo Classico sparkling wine since 1902. A pioneer in premium Italian traditional method sparkling wine production, Ferrari, has been loved by many around the world for over a century. Not to be confused with another iconic Italian brand, this Ferrari has relied only on its delicious wines to build its international following. The founder's focus on creating a luxurious sparkling wine continues today with this third generation family business as Ferrari sparkling wine is enjoyed by many of the world's celebrities as their celebration wine of choice. Fortunately, this is the most affordable Ferrari, and Blanc de Blancs sparkling wine you can find, making it very accessible to all, not just those A-list celebs.
The Ferrari Brut is a non-vintage Blanc de Blancs (Chardonnay only) sparkling wine that was disgorged after over two years on its lees. The colour is a rich straw yellow, with a nose of sweet baked apples and pears, vanilla bean, biscuit, and wet stone. The delicate mousse has a wonderful palate cleansing rich tree fruit and lemon curd finish. A very attractive and complex wine that sells for under $30, making it an absolute buy-by-the-case wine! Some of the finest bubbles I've enjoyed, especially at that price! Tasted December 2014, October 2015, and September 2016. 92+ points each tasting. Matt Steeves – http://www.quercusvino.ca
PS: In 2016 Ferrari's Brut won the prestigious "Best Italian Sparkling Wine" & "World Champion Classic Blanc de Blancs" at the Champagne & Sparkling Wine World Championship! Incredible awards for a $25 Blanc de Blancs!
Buy Ferrari Brut at LCBO – $24.95
Matt's review: Canada's iconic sparkling wine house, Benjamin Bridge, has released its first non-vintage (NV) Rosé which builds off of the success of their NV Brut, along with their fantastic vintage sparkling wines.
A beautiful copper/rose gold colour, the nose shows field strawberries, fresh baked strawberry scones, sweet red apple, and that Gaspereau Valley hallmark, sea breeze. Very refreshing and so incredibly sessionable, especially in the summer sun with good friends, this is a fantastic wine to enjoy in any setting and for me a charcuterie platter is a great place to start. If you haven't tasted a Benjamin Bridge sparkling wine this would be a great starting place, followed by their NV Brut, vintage Brut, vintage Rosé, and finishing with their iconic Nova 7 – arguably one of Canada's most loved wines. The NV Rosé is a food pairing superstar – from BBQ to salads to seafood, it complements them all with its elegant and fruity style. Tasted July 2018. 92 points. Matt Steeves – http://www.quercusvino.ca
Available winery direct, and at various wine stores across Canada, such as NSLC – $27.95
A bit of post-show fun here when CTVs, and former RedBlacks star quarterback, Henry Burris, sabered a bottle of Benjamin Bridge NV with a small 10mm wCava, Spain, wrench. Like a champ he nailed it on his first try!
Now, time for some Champagne Cocktails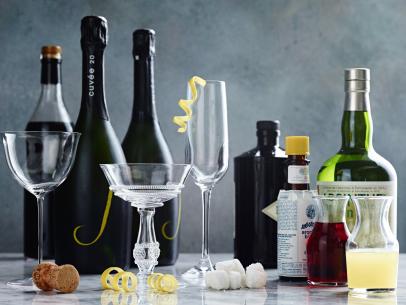 Although sparkling wine on its own is terrific, and perfectly suited to celebrating the occasion, a great way to jazz up that sparkling wine is by making sparkling wine cocktails!
With so many options, there's no limit on what you can create with sparkling wine, so why not try a few of these easy to make cocktails and impress your guests this New Years.
I'm not the first to suggest this either. Champagne Cocktails have been around since the mid-1800s and have been captured on screen in movies such as The Godfather and Casablanca!
Sparkling Wine Cocktails can be designed to enjoy before, during, or after a meal, and typically they are terrific on their own.
With most Sparkling Wine Cocktails the ingredients are simple and can be easily set-up on your counter or bar. For some, a bit of preparation is required, but the majority can be easily whipped-up in no time, and impress your guests with your sparkling creations.
Here are a few of my favourites which we mixed-up today on CTV:
Classic Champagne Cocktail
The Iced-out Champagne Cocktail
French 75
Kir Royale
Black Velvet
Champagne Cocktails have been around since the mid-1800s and have been captured on screen in movies such as The Godfather and Casablanca!
Sparkling Wine Cocktails can be designed to enjoy before, during, or after a meal, and typically they are terrific on their own.
With most Sparkling Wine Cocktails the ingredients are simple and can be easily set-up on your counter or bar. For some, a bit of preparation is required, but the majority can be easily whipped-up in no time, making it easy to treat your guests to an extra special drink.
Classic Champagne Cocktail
Ingredients
1-3 drops bitters (careful not to add too much bitters).
1 sugar cube
5 ounces chilled Champagne
(to up the octane, add 1 ounce of Cognac)
Directions
Drop bitters onto sugar cube; let soak in. Place sugar cube in a Champagne flute. Add Cognac (if desired), and top with Champagne.
The Iced-out Champagne Cocktail
I've created a delicious sparkling wine cocktail that takes two of Canada's beautiful style of wines, Inniskillin Icewine and Jackson-Triggs Entourage Grand Reserve, both from Ontario. These two wines when combined produce a delicious cocktail suited for any special occasion, and perfect for a NYE celebration on a chilly Canadian winter night!
Ingredients
1 ounce Inniskillin Icewine (consistently one of the world's finest Icewine)
4 ounces Jackson-Triggs Entourage Grand Reserve (one of Canada's fine traditional method sparkling wines)
Directions
Just before serving, pour one ounce of Inniskillin Icewine into each glass. Fill with Sparkling wine, and garnish with a candied lemon twist, and a frozen cranberry just for looks.
Inniskillin Cabernet Franc Icewine 2015: Iconic Canadian winery, Inniskillin, is world renowned for their luxurious Icewines, and their Cabernet Franc Icewine is the best of the best! Rich and refreshing, with incredible complexity and perfect balance, it bursts with layers of brandied cherry, stewed plum and rhubarb, and the sweetest red strawberries you've ever tasted. Luscious with precise acidity that is the hallmark of the finest Canadian Icewines. Enjoy 2017-2030. Tasted December 2017. 96+ points. Matt Steeves – http://www.quercusvino.ca
French 75
Ingredients:
1 part Gin
5 parts sparkling wine
½ parts sugar syrup
1 part lemon juice
Directions:
fill up the shaker with ice cubes
pour lemon juice, sugar syrup, and gin into the shaker
shake well
strain into the champagne glass
fill up the glass with champagne
garnish with candied lemon twist
4. Kir Royale – A legendary French aperitif.
Kir originated in Burgundy, France. It is named after the priest Canon Félix Kir, who was a hero in the French Resistance during the Second World War.

Ingredients
1 ounce creme de cassis
4 ounces Champagne or other sparkling wine
1 strip tangerine or orange zest, for garnish
Directions
Just before serving, pour one ounce of creme de cassis into each glass. Fill with Champagne, and garnish with zest.
5. Black Velvet
Ingredients:
1 part stout (Guinness)
1 part champagne or dry sparkling wine
Directions:
Fill a chilled champagne flute or tall Collins glass halfway with the stout. Wait for some of the foam to subside.
Very slowly add the champagne (use a cocktail spoon on the inside of the glass, if you like) until the glass is full. Serve. Alternatively, add the Champagne first, then the stout on top.
Here are a few other Champagne Cocktails you can try this New Year's Eve:
Here's wishing you a safe and enjoyable New Year's Eve filled with lots of delicious Champange, Champagne cocktails, friends and family! Cheers!
Matt
Matt Steeves – Sommelier, Wine Writer, and Director with the National Capital Sommelier Guild (www.sommelierguild.com) Follow Matt on Twitter @QuercusVino and check out www.mattswinepicks.com for his top wine and spirits picks.