Ottawa, ON
January 23, 2023
Today on CTV Morning Live, CTVs Rosey Edeh, Stefan Keyes, and Sommelier Matt Steeves were preparing for celebrating Robbie Burns Day by showcasing (and enjoying) some of our favourite drinks from Robbie Burns' homeland…Scotch whisky and delicious whisky cocktails!  Matt's recommended Whiskies are all certain to be enjoyed and his Scotch Cocktails are both easy to make and incredibly delicious/sure to be enjoyed when you're celebrating Robbie Burns Day on January 25th. Check out the video here.
January 25th is the day when the world takes a moment to celebrate the late iconic Scottish poet and lyricist, Robbie Burns (born 25 January 1759), who is widely regarded as the national poet of Scotland and a pioneer of the Romantic movement.  He was also a fan of whisky, well writing about it anyway, but I'm sure the whisky helped with his creativity and romantic influence.
Robbie Burns drew inspiration from the world around him to craft his most famous work.  Poems and songs like "Auld Lang Syne" and "A Red, Red Rose" were created by carefully placing words and arranging sentences.  When we think about Robbie Burns Day, we think of tradition, history and celebrating the legacy of an excellent craftsman. The craftsmanship of a master is also required to create delicious and aromatic whisky, like those from storied Scottish distilleries such as Glen Moray, Macallan, and Ardbeg to name but a few.
Now although many celebrate Robbie Burns Day by participating in a Burns Supper, and chowing down on 'haggis', my celebration of Robbie Burns Day tends to focus more on skipping the haggis and instead enjoying a dram or two of delicious Scotch whisky!
With that in mind, I've got some delicious Scotch whiskies here today which would be great to complement your celebrations on the 25th.  And since Scotch can vary so much in style depending on how long it was barrel aged and in what type of barrels (Sherry, Bourbon, even Sauternes and Icewine barrels), there's lots of choice and the whiskies I've included today offer a great variety whether you're mixing premium cocktails or sipping a dram neat, these whiskies are great options to enjoy this Robbie Burns Day!
For anyone participating in Burns Night or a Burns Supper, to commemorate the life of the bard (poet) Robert Burns,  I wish you a wonderful evening! For those that aren't familiar with a Burns Supper/Burns Night, in effect a second national day in Scotland, there's a long-standing tradition in Scotland (and beyond), dating back over 200 years.
Of course a Burns Supper would not be a Burns Supper without a good helping of some traditional Scottish cuisine, accompanied by a few drams of fine Scotch whisky. It's customary to serve three courses during the meal, including haggis.  For me, incorporating whisky, Scotland's national drink, into your evening festivities is a must.  Whisky is an essential part of any good Burns Supper, and the whiskies we're showing here are fantastic options to enjoy this Burns Night.
In honor of Robert Burns, I invite you to take the time to savour some delicious Scotch whisky neat, on the rocks, or in a cocktail.  If you're looking for some recommendations, the following whiskies are very different yet each terrific whiskies that'd be fantastic to enjoy this evening while celebrating the Scottish legend, Robbie Burns.
Glen Moray whisky has been produced since 1897 in the Speyside, near the Lossie river. It wonderfully embodies the refined and elegant style for which the region's whiskies are renowned. Aged 12 years, this one evokes marmalade, warm cereals and honey.
Here is a terrific Scotch cocktail using Glen Moray 12 Years Single Malt Scotch Whisky:
The  Rob Roy
The story behind the Rob Roy (Scotch whisky Manhattan) goes back to the early 18th century. Vilified by the crown and the government as a cattle thief, worshiped by the people as a hero and resistance fighter, he went down in the history of Scotland and was a role model for authors such as Sir Walther Scott, even Hollywood loved his story.  We are talking about Rober Roy MacGregor, also known as Rob Roy.  Fast forward to the end of the 19th century and the Rob Roy cocktail emerges.
While in the early days of Manhattan, and later Rob Roy, spirits and Vermouth were often mixed in equal parts, over time they have given more space to the spirit base in these fine cocktails.
A classic Rob Roy is prepared as follows:
50 ml Scotch whisky
20 ml sweet red Vermouth
1-3 dashes of Bitters (mostly Angostura Bitters)
Stir the mixture cold on ice and place in a pre-chilled coupe and garnish with a cocktail cherry and/or an orange twist.

The Macallan Triple Cask Matured 12 years old is created from a trinity of spirits, matured individually in European sherry seasoned oak casks, American sherry seasoned oak casks and American ex-bourbon oak casks. Once filled, the maturing spirit remains undisturbed in the same casks for 12 years – after which this complex combination of casks is exquisitely and expertly married together to create this vibrant single malt.
The Old Fashioned –  Simple, timeless, and truly perfect cocktail!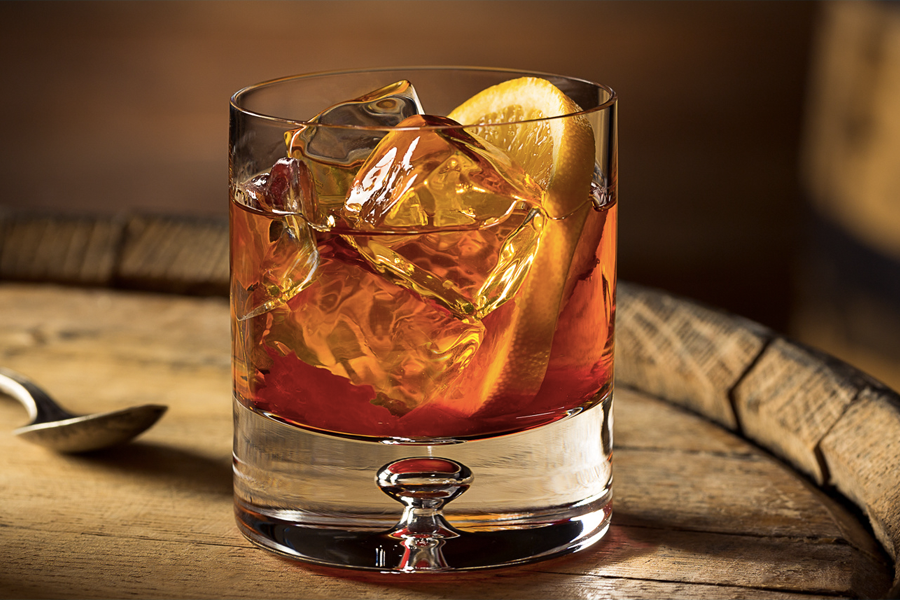 50ml Scotch whisky
4 dashes aromatic bitters
1 bar spoon white granulated sugar
Garnish: large orange twist
Combine the ingredients in a glass. Mix and muddle to dissolve sugar. Add ice (block ice preferred) and stir to chill and slightly dilute. Finish with an orange twist, and squeeze some orange zest from the peel on the top of the cocktail for extra aromatic enjoyment.
Ardbeg Ten Years Old is revered around the world as the peatiest, smokiest, most complex single malt of them all. Yet it does not flaunt the peat; rather it gives way to the natural sweetness of the malt to produce a whisky of perfect balance. Named World Whisky of the Year in 2008.
A burst of intense smoky fruit escapes into the atmosphere, peat infused with zesty lemon and lime, wrapped in waxy dark chocolate. Bold menthol and black pepper slice through the sweet smoke followed by tarry ropes and graphite. Savour the aroma of smoked fish and crispy bacon alongside green bell peppers, baked pineapple and pear juice.
Add water and an oceanic minerality brings a breath of cool, briny seaspray. Waxed lemon and lime follows with coal tar soap, beeswax and herby pine woodlands. Toasted vanilla and sizzling cinnamon simmer with warm hazelnut and almond toffee.
The Scotch Boulevardier Cocktail – a classic twist on the famous Negroni
If you like a Negroni, try this Scotch-based twist on the classic Negroni.  Substitute a peaty Scotch for the Gin (such as Ardbeg 10), add one ounce of Campari, one ounce of sweet red vermouth, lots of ice, strain, garnish and voila!  The Boulevardier, the signature drink of Erskine Gwynne who edited the Parisian magazine of the same name.
Ever wonder what exactly a single malt Scotch is?
To be a single malt Scotch the whisky must have been distilled at a single distillery, in Scotland, using a pot still distillation process, and made from a mash of malted grain. In Scotland, the only grain allowed to be used in a single malt whisky is barley. As with any Scotch a single malt Scotch must be distilled in Scotland and matured in oak casks, also in Scotland, for at least three years and one day (most single malts are matured longer…in fact most are a minimum 10 or 12 years, and go up to 40+ years, although those are astronomically priced and very hard to come by).
"Malt" indicates that the whisky is distilled from a "malted" grain. In the case of single malt Scotch, barley is the only grain used. Single malt indicates that the whisky in the bottle came from a single distillery. Bottlings containing malt whisky from multiple distilleries are called "blended malt", essentially a blend of several single malt whiskies from different distilleries.
The age statement on a bottle of single malt Scotch is the number of years the whisky spent maturing in casks. Very few whiskies are bottled from a single cask, and the mixing of spirits with different amounts of ageing is allowed (such as 10, 11, 12, 13 year olds); the age statement reflects the age of the youngest whisky in the mix (10 year old in the example).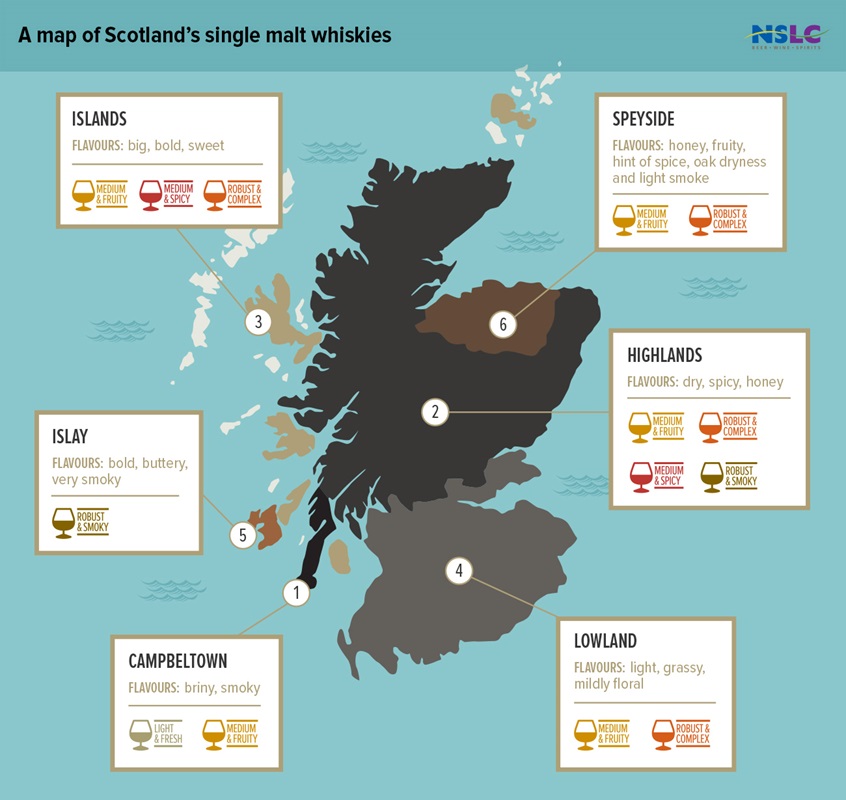 Enjoy your Robbie Burns celebrations and Scotch whisky!  Stay classy my friends!
Matt Steeves –  Sommelier, Wine Writer, and former Director with the National Capital Sommelier Guild.   Follow Matt on Instagram @QuercusVino  and check out www.topwines.ca for his top wine and spirits picks.