June 28, 2019
Overview:  Today on CTV Morning Live, CTV's Leslie Roberts, Annette Goerner, and Sommelier Matt Steeves showcased some delicious Canadian wines and spirits that are sure to enhance your Canadian civic pride as you celebrate Canada Day this long weekend.  
With the Canada Day long weekend now here, it's the perfect opportunity to quench your thirst and fuel your Canada Day celebrations with delicious Canadian wine and spirits. We're showing a small sample of the many premium Canadian wines and spirits available across our great country.  Details below…and check out the CTV video here!
Canadian wineries are producing some of the finest wines on the planet, and what a terrific opportunity to enjoy these fine wines as we celebrate Canada Day this Canada Day long weekend.
With nearly 700 wineries from coast to coast, Canadian wineries are producing delicious wines that are earning top awards and international attention for their remarkable quality.
Today I've got a selection of high quality Canadian wines, wines that have helped put Canada on the map for premium wine production, and as we pointed out on CTV Morning Live, these wines are absolutely delicious!
Before we get into the wines, let's chat about the Canadian wine scene:
It's an impressive stat each time I hear someone say that there are now nearly 700 wineries across Canada. Those hundreds of Canadian wineries are contributing in a big way to the Canadian economy with $9B of economic impact can be attributed to Canadian wine each year.  That's significant.  Did you know that for every bottle of Canadian wine you purchase that provides over $36 in economic impact.  Stimulating our taste buds and the economy by enjoying some delicious Canadian wine.  Sounds like a great plan!
Canadians are choosing and enjoying record amounts of Canadian wine, and it's no surprise once you realize how great our wines have become and how much our wine industry has matured over the past two decades.  Fortunately Canadians enjoy more than 1.2 billion glasses of Canadian produced wine every year, equal to 247 million bottles.   That's a great sign of the growing popularity of Canadian wines and the maturing wine industry that continues to garner increased international acclaim every year.  This success is in part due to the leadership of the Canadian Vintners Association which helps ensure the continued growth and prosperity of the Canadian wine industry, and to wine lovers like you and I that buy and enjoy great Canadian wines with the special people in our lives, which in turn supports the hard working boutique wineries that take such great care to produce some of the finest wines available.
Enjoying local wine with local food is common around the world and it's certainly caught on here in Canada with Canadian's appreciating the benefits of enjoying high quality local products; products that reflect the local environment; products with great pedigree; and what a perfect pairing local wine and food is.
Today I've got a selection of what I consider to be some of the best Canadian wines from coast to coast that I strongly encourage you to taste to appreciate how terrific the Canadian wine scene has become as we celebrate Canada Day!  With nearly 700 wineries across Canada this is but a mere sample of some of the finest wines available. 
Before we start off with some bubbly, as every celebration commands some fine (Canadian) bubbly, we're going to enjoy some delicious red wines from the Okanagan Valley:
Painted Rock Red Icon, Okanagan Valley, BC – $55 winery direct
Painted Rock Estate Winery's flagship wine, Red Icon, showcases the high quality wines that proprietor, John Skinner, and consulting winemaker, Alain Sutre, are focused on crafting from this picturesque Penticton – Skaha Lake, Okanagan Valley winery. With an objective of crafting world-class ultra premium wines that showcase the unique terroir of the Okanagan Valley, and that go head to head with the finest wines in the world, Painted Rock is well on their way and once again with another stellar vintage, 2016 Red Icon is a gorgeous expression of this iconic Canadian wine. A blend of 44% Merlot, 21% Cab Franc, 16% Petit Verdot, 12% Cab Sauv, and 7% Malbec.
Deep ruby red with an opaque core, the nose shows rich black fruits, black plum, fresh figs, blueberry compote, dried fruit, and graphite. Full bodied with great structure, Red Icon has richness yet with remarkable freshness and elegance. A very supple texture reveals the harmonious balance between the ripe and savoury fruit along with the fresh acidity and silky smooth tannins, hallmarks of expert winemakers that not only grew the finest estate fruit but also executed a magnificent oak aging program with the perfect combination of new and neutral French oak to achieve this incredible expression of an Okanagan 'Bordeaux' red blend.
Decant then enjoy with slow-roasted prime rib with a rich red wine jus. Cellaring, although not necessary, is certain to reward those with patience as this youthful wine will evolve and gain further complexity with age whilst preserving that harmonious balance as it approaches its optimal window of enjoyment. Drink 2019-2029. Tasted June 2019. 95 points. Matt Steeves – http://www.quercusvino.ca
Another Okanagan gem, this one from Burrowing Owl…
Burrowing Owl Merlot – $36.95 winery direct
Combining elegance and structure, the nose opens with toasty oak, dark chocolate, coffee and bacon alongside black plum, black cherry, prune studded fruit cake and with complex tobacco, clove, shortbread and floral notes. The palate is full and rich with firm, ripe, dusty tannins and sage, paprika, black licorice and roasted red capsicum to go alongside the cocoa powder, espresso and ripe mulberry fruit. Pair this with slow roasted leg of lamb or beef wellington. Aged 18 months in the following oak to achieve this remarkably impressive and approachable style of wine: 66% French, 13% American, 15% Hungarian, 6% Russian with 26% new oak.
Now, time for some sparkling wine to celebrate the occasion:
13th Street NV Rosé – Niagara – $29.95
13th Street Winery Cuvée Rosé is a traditional blend of Pinot Noir and Chardonnay. Produced in the same labour intensive manner as Champagne, this traditional method sparkling wine offers incredible value for such a lovely wine. Dry with lively acidity and a fine palate cleansing mousse, it shines bright with expressive field berries, cran-apple, biscuit, and mineral notes. Perfect as an aperitif, or on it's own, and made even better with smoked salmon, charcuterie plates, or fresh garden salads with strawberries. Such a versatile wine and terrific value for a traditional method sparkling wine. Enjoy now or cellar for a few extra years. Tasted March 2015, January 2016, and April 2017. A consistent 91 points each tasting. Matt Steeves – http://www.quercusvino.ca
Buy 13th Street Cuvée Brut Rosé – $29.95
Going to the East Coast now for some fine Nova Scotia wine…from one of my favourite sparkling wine houses…Benjamin Bridge.
Benjamin Bridge released it's super popular Nova 7 and Pet Nat lightly sparkling wines in 250ml can format this spring.  These super handy formats are the perfect treat for anyone to tuck into a picnic basket or Yeti cooler and enjoy in the summer sun.  These are a couple of the very few premium wines available in can format and certainly worth giving a shot this summer!
Check them out here for shipping winery direct.
Buy Nova 7 in a can winery direct here!
And if you can't get your hands on any of those 250ml cans, then check out the LCBO for the Nova 7 in regular format 750ml bottle, which was just released this June in LCBO.
Benjamin Bridge Nova 7 2018, Nova Scotia – $24.95
My review of the 2016 vintage: Benjamin Bridge has been making a real fizz in the sparkling wine scene over the past decade. This Nova Scotia based winery is producing sparkling wines that rival those from Champagne and other storied wine regions around the world. A combination of ideal terroir for producing crisp & complex cool climate grapes, along with creative winemaking expertise, has resulted in world-class sparkling wines, unlike no others, each and every vintage.
There's a tendency to compare Nova 7 to Italy's Moscato d'Asti, given its gentle effervescence and off-dry low alcohol style, but I must say Nova 7 is in a league of its own. Crisper, perfectly balanced, more complex, and loaded with refreshing minerality, Nova 7 is unlike no others, and many Canadians have caught on to this. Nova 7 is becoming Canada's favourite wine.
The 2016 vintage shows a very faint rose gold colour with the characteristic aromas of sweet honey suckle, marigold blossoms, asian pear, and fresh stone fruit. Very lightly effervescent, the mid-palate shows creamy and sweet orchard fruit and fresh ginger, all backed with crisp and refreshing acidity on the long finish. Beautifully balanced, this off-dry wine is loaded with refreshing minerality making it a great choice for east coast seafood appetizers, sushi, tart berry desserts, or simply to enjoy on its own. Benjamin Bridge wines continue to be some of the most interesting I've tasted vintage after vintage and the 2016 Nova 7, in its 10th year, is another great example of the world-class wines winemaker Jean-Benoit Deslauriers is producing year after year. Tasted April 2017. 94 points. Matt Steeves – http://www.quercusvino.ca
Now, onto some more great wines, and we're going back out to the other coast now, to British Columbia…
Okanagan Pinot Gris are so approachable, refreshing, and easy to love.  Here we've got this Burrowing Owl Pinot Gris from Canada's wine capital, Oliver.
Burrowing Owl Pinot Gris – $28.95 winery direct
A vibrant pale lemon with intense aromas of pear, lemon and lime, white peach, honeydew melon and white flowers. The palate is crisp and refreshing with pear and green apple, lemon zest, clove spice and some wet stone minerality and a zesty grapefruit phenolic grip on the long finish. Pair this with moules frites or trout stuffed with lemon and thyme.
Back to Ontario, where Featherstone's Canadian Oak Chardonnay is tee'd-up for a double dose of Canada in a bottle…Canadian oak aged Ontario Chardonnay.
Featherstone Canadian Oak Chardonnay 2017, Niagara – $21.95
Review of the 2015 vintage: Featherstone's Canadian Oak Chardonnay proudly uses locally grown 'Canadian' oak for the barrels this creamy Chardonnay was fermented in. Don't confuse this cool-climate Chardonnay with a Sonoma County (California) Chardonnay, despite its richness, as this hand-picked local-everything Chardonnay is purely Ontario-grown and a great expression of a richly oaked Chardonnay. If you like oaked Chardonnay (which I do!), then I recommend trying this unique offering from Freatherstone. Russet apples, cinnamon, lees, and brioche on the nose and palate. The oak influence shows up very prominently in this wine, while still allowing the orchard fruit to shine. Enjoy with pork roast with an apple chutney, or with creamy autumn harvest soups. Matt Steeves – www.quercusvino.ca
Here are some of my top rated Summer Cocktails to enjoy now that the weather has finally warmed up and ice cold cocktails are now a must!  Try them out this Canada Day long weekend (and all summer long) when hosting and I guarantee your guests will love them!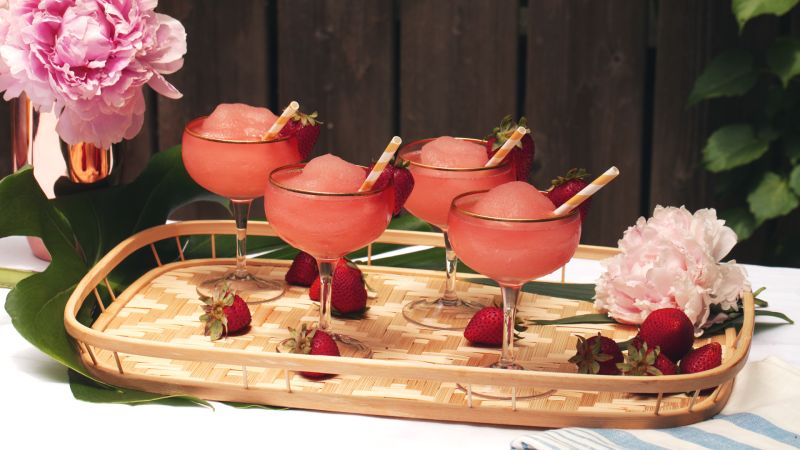 When the temperature is sky rocketing there's nothing like an ice cold cocktail to keep you refreshed.  Ice cold cocktails are the perfect solution to cooling off on these hot summer nights, and when you're hosting a crowd they're great as they can be made ahead of time and served to many without delay.
With a few simple ingredients, you can easily craft your own signature iced cocktails that you and your guests will love!
Before we get into some of my favourite iced cocktails and sangria recipes, here's a few tips for serving ice cold drinks in the heat of the summer…
Put down that massive pint glass…bigger isn't always better when it comes to serving and enjoying ice cold drinks in the heat of the summer.  This time of year I recommend smaller glasses with smaller and more frequent pours.  Smaller glasses, loaded with ice, means you're going to enjoy that beverage served cold (as planned) and not end up with a watered down jug of melted ice had you opted for the 32 oz super sized mug. Also, if possible, just doublewalled stemware, or insulated wine glasses/cocktail glasses.  They're incredibly efficient at keeping your drink at the proper temperature and consistency.
Use big ice cubes.  Small ice cubes or crushed ice will melt faster than large cubes meaning your special drink is more likely to get watered down and lose the flavour profile you intended when you mixed it.  Bigger is better in this case.
Use small cans of tonic water and club soda to get the most fizz.  2L bottles tend to go flat quickly which means you're not getting the full texture your drink is supposed to deliver.  I prefer the small 222ml cans of club soda and tonic water versus the 355 ml cans as the smaller cans are perfect for one drink and they seem to pack more fizz too.
Whenever possible use freshly squeezed lemon and lime over the bottled alternatives.  You know exactly what you're getting when you squeeze a lime on your own and there's nothing fresher than that.
Keep your vodka, gin, and other spirits in the freezer prior to service to help keep your cocktail as cold as possible.
Following those few tips will help make your cocktails some of the finest your guests will enjoy all summer long!
These iced summer cocktails are absolute dynamite and will work perfectly at keeping you and your guests refreshed this Canada Day and all summer long:
Strawberry F'rosé
Ingredients
Servings: Makes 4–6
1 750 ml bottle hearty, bold rosé (I chose Featherstone's Rosé given its deep colour, flavour profile, and affordable price)
½ cup sugar
8 ounces strawberries, hulled, quartered
2½ ounces fresh lemon juice
Recipe Tips
Preparation
Pour rosé into a 13″x9″ pan and freeze until almost solid (it won't completely solidify due to the alcohol), at least 6 hours.
Meanwhile, bring sugar and ½ cup water to a boil in a medium saucepan; cook, stirring constantly, until sugar dissolves, about 3 minutes. Add strawberries, remove from heat, and let sit 30 minutes to infuse syrup with strawberry flavor. Strain through a fine-mesh sieve into a small bowl (do not press on solids); cover and chill until cold, about 30 minutes.
Scrape rosé into a blender. Add lemon juice, 3½ ounces strawberry syrup, and 1 cup crushed ice and purée until smooth. Transfer blender jar to freezer and freeze until frosé is thickened (aim for milkshake consistency), 25–35 minutes.
Blend again until frosé is slushy. Divide among glasses.
Do Ahead: Rosé can be frozen 1 week ahead.
I chose Featherstone's Rosé for the Strawberry F'rosé given its dark colour and complementary fruity profile.
My review of the 2016 vintage Rosé: Featherstone's Rosé has won impressive awards in the past, including double gold medal at the 2014 Ontario Wine Awards. Year after year this sub $16 wine offers a very consumer friendly style that many reach to as their go-to patio-wine. The 2016 shows strawberry, candied watermelon, and baked cherry on the nose. Creamy and refreshing, with cherry and cran-apple persisting on the finish. Enjoy in the sun on a patio, and pair with grilled Cajun shrimp skewers. Tasted April 2017. 88 points. Matt Steeves – www.quercusvino.ca
FROZEN GRAPEFRUIT ROSÉ
Ingredients:
1/2 cup Rosé (I chose 13th Street Wine Rosé (Pink Palette) given its deep colour, flavour profile, and affordable price)
1/2 cup ruby red grapefruit juice
1 1/2 cups ice
mint and grapefruit slices to garnish
1 cup sugar
1 cup water
3 sprigs rosemary
Directions:
Bring water to a boil and add sugar and rosemary sprigs. Stir vigorously to allow sugar to dissolve entirely. Allow syrup to come to a boil once more and then remove from heat.
Pour the syrup into a heat proof vessel such as a mason jar and refrigerate until entirely cool. Remove rosemary sprigs.
In a blender, combine ice, Rosé, rosemary infused simple syrup and ruby red grapefruit juice. Blend until mixture is a smooth, icy consistency.
Pour frozen mixture into glass and garnish with rosemary sprig and serve.
With its elegant fancy pink colour, the 13th Street winery 'Pink Palette' has a remarkable bottle appeal as it glamorizes any table. The visual appeal is complemented with inviting aromas of ripe sweet red fruit, cranberry, apple, and sweet cherry-rancher candy aromas. Refreshing with a creamy smooth texture, there's a subtle touch of sweetness that complements the dried cherry and herbs on the finish, making this wine a great choice for patio sipping and enjoying with charcuterie, grilled pork, lamb, or chicken, and fruity summer salads. Also makes a terrific F'rosé! Tasted June 2019. 88 points. Matt Steeves – http://www.quercusvino.ca
Available at LCBO or winery direct – $15.95
Who doesn't love a Gin & Tonic…but it gets even better with this Frozen Gin & Tonic!
Frozen Gin & Tonic
Ingredients
2 ounces gin (I've selected Last Best from Calgary)
¾ ounce tonic syrup
Cucumber slice, for garnish
Directions:
Combine first two ingredients with 1 cup of ice in blender. Purée­ until slushy. Pour into small rocks glass. Garnish with cucumber slice.
Now for some Vodka cocktails…using Kannuk Canadian Vodka!
Kannuk Sparkling Cup
6 leaves fresh mint
2 slices cucumber
2 oz. premium vodka (I chose Canada's premium Kannuk Vodka)
3/4 oz. lime juice
1/2 oz. simple syrup
Sparkling Wine – Jackson Triggs Cuvee Close
Directions: Muddle mint and cucumber. Add Kannuk vodka, lime juice, and simple syrup and shake. Pour over glass with ice. Top with Sparkling Wine, I'm using Jackson-Triggs Cuve Close ($15.95 at LCBO ) .
Vodka Gimlet
Ingredients:
2 oz. vodka, preferably a premium Canadian vodka such as Beattie's, Kannuk, or Iceberg
1 oz. fresh lime juice
3/4 oz simple syrup
Lime wedge, for serving
Directions:
Shake vodka, lime juice, and simple syrup. Pour over a coupe and garnish with lime wedge.
Vokda Soda with Rosemary – probably the easiest
1½ oz vodka (using Kannuk)
4 to 5 oz club soda
Large ice cubes
Rosemary sprig, for garnish
Fill a rocks glass with ice. Add vodka. Top with club soda. Garnish with rosemary sprig and serve!
Sangria:
There are so many options when it comes to Sangria. Most common in Spain and Portugal, it normally consists of red wine, fruit, a sweetener, and a small amount of brandy or Grand Mariner. Chopped fruit can include orange, lemon, lime, apple, peach, melon, berries, pineapple, grape, kiwi, mango, and just about anything else! A sweetener such as honey, sugar, syrup, or orange juice is added.  Instead of brandy, other liquids such as soda water or lemonade may be added. Sangria is steeped while chilled for as little as minutes or up to a few days, making it a great drink to prepare in advance of your Canada Day party so it's full flavored and ready to enjoy as soon as your guests arrive.
Ingredients
1/2 apple, cored, skin on, chopped into small pieces
1/2 orange, rind on, sliced into small pieces, large seeds removed (save the other half of the orange for garnishing the individual glasses)
3-4 Tbsp organic brown sugar (or 3 Tbsp (37.5 g) organic cane sugar)
3/4 cup  orange juice, plus more to taste
1/4 cup brandy, plus more to taste – I elected to use Grand Marnier
1 750 ml bottle full bodied, fruity, dry red wine ( I chose an Ontario red from Niagara…13th Street Red Palette )
Ice to chill (~1 cup, preferably large ice cubes or spheres (the bigger the ice the slower it will melt))
Instructions
Add apples, oranges, and sugar to a large pitcher and muddle with a muddler or wooden spoon
Add orange juice and brandy and muddle again
Add red wine and stir, then taste and adjust flavor as needed. If you want a bit more kick then add a splash more brandy, orange juice and brown sugar. Stir to combine.
Add ice and stir once more to chill. Serve as is, or with a bit more ice. Garnish glasses with orange wedges.
Buy 13th Street Red Palette at LCBO – $15.95
Enjoy your Canadian wines and spirits as you celebrate Canada's birthday this Canada Day long weekend!
Cheers,
Matt